Descendants of Samuel Chapin

This page was added because one of Samuel Chapin's descendants, Sophronia b. 1776 married a Stephen Bemis b. 1774.
Samuel Chapin was the Deacon and Founder of Springfield, MA.
There is a statue of him located at the corner of State Street and Chestnut Street in downtown Springfield, MA
.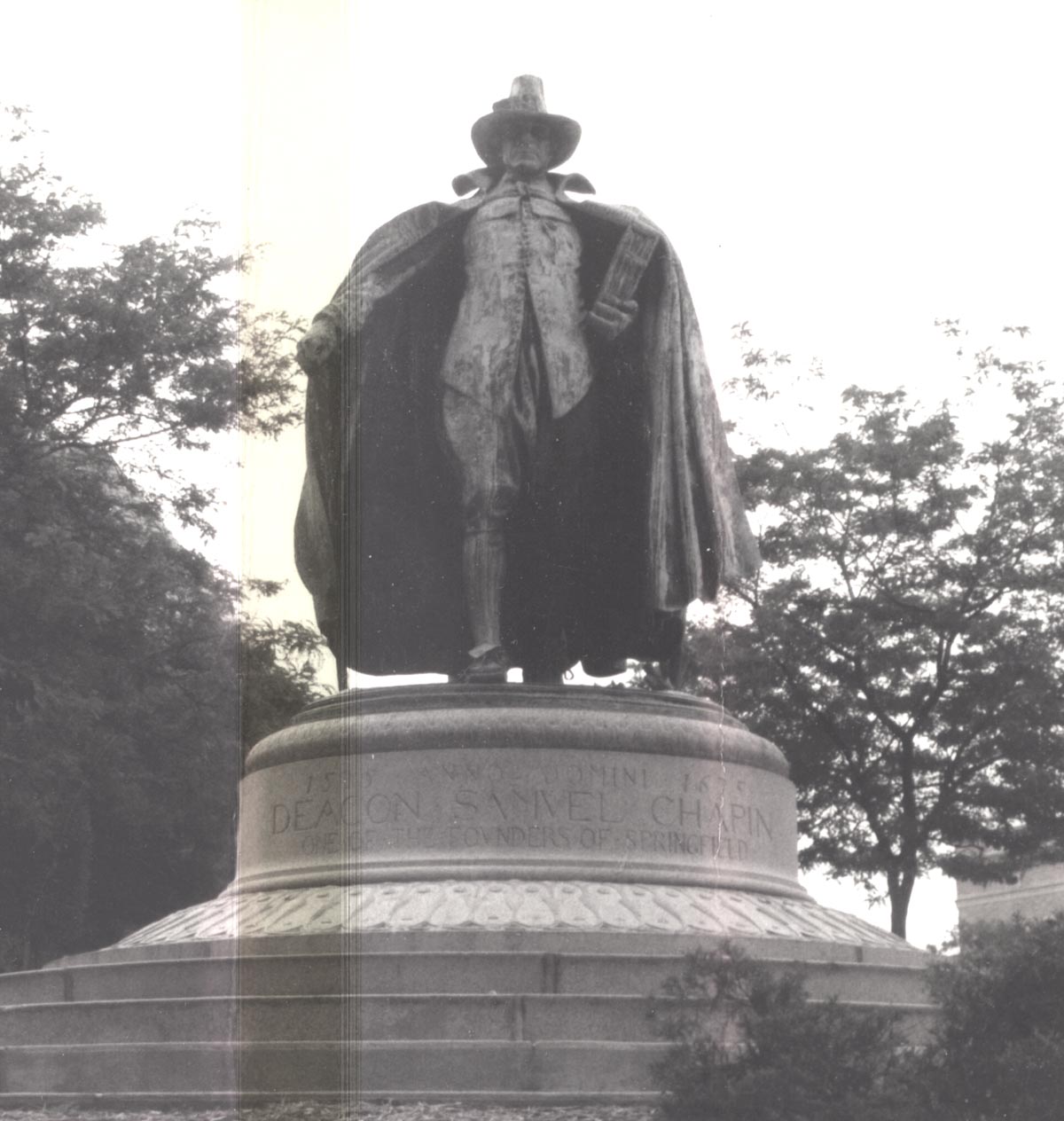 1 Samuel Chapin b: Abt. 1598 in Roxbury, England d: November 11, 1675 in Springfield, Hampden, MA
.. +Cicely Penny b: February 21, 1601/02 in Paignton, Devonshire, England m: February 09, 1622/23 in Paignton, Devonshire, England d: February 08, 1682/83 in Springfield, Hampden, MA
........ 2 David Chapin b: January 04, 1623/24 in Paignton, Devonshire, England
............ +Lydia Crump m: 1654
........ 2 Sarah Chapin b: October 1628 in Berry Pomeroy, England d: August 05, 1684
............ +Rowland Thomas m: April 14, 1647 d: February 21, 1697/98 in Springfield, Hampden, MA
........ 2 Catherine Chapin b: April 16, 1630 in Berry Pomeroy, England d: February 04, 1711/12
............ +Nathaniel Bliss
........ *2nd Husband of Catherine Chapin:
............ +Thomas Gilbert
........ *3rd Husband of Catherine Chapin:
............ +Samuel Marshfield b: Abt. 1625 in England m: December 28, 1664 d: May 08, 1692 in Springfield, Hampden, MA
........ 2 Henry Chapin b: January 25, 1630/31 in Berry Pomeroy, England d: August 15, 1718 in Springfield, Hampden, MA
............ +Bethia Cooley b: September 16, 1643 in Springfield, Hampden, MA m: December 15, 1664 d: December 09, 1711 in Springfield, Hampden, MA
................... 3 Henry Chapin b: June 01, 1666 in Springfield, Hampden, MA d: April 29, 1668 in Springfield, Hampden, MA
................... 3 Sarah Chapin b: March 30, 1670 d: November 06, 1732 in Springfield, Hampden, MA
................... 3 Mary Chapin b: 1672 d: January 13, 1707/08 in Springfield, Hampden, MA
....................... +Benjamin Wright b: March 14, 1666/67 in Springfield, Hampden, MA m: January 24, 1692/93 in Springfield, Hampden, MA d: December 25, 1704 in Springfield, Hampden, MA
................... 3 Bethia Chapin b: February 19, 1671/72
................... 3 Henry Chapin b: March 19, 1678/79 d: September 15, 1754
....................... +Mary Gurnsey m: February 19, 1701/02 d: May 02, 1715
................... 3 Benjamin Chapin b: February 27, 1681/82 in Chicopee, MA d: March 22, 1756 in Chicopee, MA
....................... +Joanna Warriner
................... *2nd Wife of Benjamin Chapin:
....................... +Hannah Colton b: August 08, 1688 m: November 09, 1704 d: March 05, 1733/34
............................. 4 Hannah Chapin b: Abt. 1705
............................. 4 Benjamin Chapin b: Abt. 1706
............................. 4 Isaac Chapin b: August 18, 1710 d: November 22, 1789
................................. +Experience Warriner m: June 29, 1734
............................. 4 Abner Chapin b: Abt. 1711
............................. 4 Jacob Chapin b: Abt. 1712
............................. 4 Sarah Chapin b: Abt. 1713
............................. 4 [2] Bethia Chapin b: June 25, 1718 in Springfield, MA d: May 01, 1793 in Springfield, MA
................................. +[1] Phineas Chapin b: September 23, 1715 in Chicopee, MA m: February 01, 1738/39 in Springfield, Hampden, MA d: October 11, 1788
........................................ 5 [3] Bethia Chapin b: August 08, 1741 d: September 23, 1741 in Springfield, Hampden, MA
........................................ 5 [4] Pharez Chapin b: July 25, 1742 d: August 27, 1755 in Springfield, Hampden, MA
........................................ 5 [5] Bethia Chapin b: August 24, 1743 d: 1780 in Springfield, Hampden, MA
............................................ +[6] Moses Chapin b: February 25, 1738/39 in Springfield, Hampden, MA m: December 17, 1761 in Chicopee, MA d: May 19, 1771
........................................ 5 [7] Phineas Chapin b: March 01, 1746/47 in Chicopee, MA d: March 02, 1821 in Chicopee, MA
............................................ +[8] Sabrina Wright b: December 09, 1755 m: January 26, 1775 d: April 04, 1813
.................................................. 6 [9] Sophronia Chapin b: Abt. 1776 d: September 10, 1804
...................................................... +[10] Stephen Bemis b: September 10, 1774 in Westminster, MA m: February 13, 1802 in Chicopee, MA d: November 11, 1828 in Harvard, MA
............................................................. 7 [11] Stephen Chapin Bemis b: November 28, 1802 in Harvard, MA d: February 12, 1875 in Springfield, MA
................................................................. +[12] Julia Emeline Skeele b: July 11, 1809 in Chicopee, MA m: December 02, 1828 in Chicopee, MA
............................................................. 7 [13] Sophronia Bemis b: July 23, 1804 in Harvard, MA d: March 27, 1842 in Willimansett, MA
................................................................. +[14] John Pendleton d: July 27, 1863
........................................ 5 [15] John Chapin b: May 01, 1753 in Springfield, Hampden, MA
............................................ +[16] Margaret Ely b: January 12, 1751/52 in West Springfield, MA m: August 05, 1775 in West Springfield, MA d: June 02, 1843
........................................ 5 [17] Silas Chapin b: September 10, 1755 in Springfield, Hampden, MA
........................................ 5 [18] Asenath Chapin b: May 02, 1759
............................................ +[19] Silas Smith
............................. 4 George Chapin b: December 13, 1722
................................. +Thankful Sikes m: May 26, 1743
............................. 4 Abigail Chapin b: Abt. 1723
............................. 4 Mary Chapin b: Abt. 1724
............................. 4 Eunice Chapin b: Abt. 1725
............................. 4 Ephraim Chapin b: October 29, 1729 in Chicopee, MA d: October 12, 1805 in Chicopee, MA
................................. +Jemima Chapin b: December 12, 1735 in Chicopee, MA m: May 01, 1755 d: November 01, 1804 in Chicopee, MA
........ 2 Samuel Chapin b: January 25, 1630/31 in Berry Pomeroy, England d: July 10, 1634 in Berry Pomeroy, England
........ 2 John Chapin b: January 16, 1632/33 in Totnes, Devenshire, England
........ 2 Honor Chapin b: May 08, 1636 in Berry Pomeroy, England
........ 2 Josiah Chapin b: October 29, 1637 in Berry Pomeroy, England d: September 10, 1726
........ 2 Japhet Chapin b: October 15, 1642 in Springfield, Hampden, MA d: February 20, 1711/12 in Springfield, Hampden, MA
............ +Abilenah Cooley b: March 12, 1641/42 in Milford, New Haven, CT m: June 22, 1664 d: November 17, 1710 in Springfield, Hampden, MA
................... 3 Samuel Chapin b: July 04, 1665 d: October 19, 1729
....................... +Hannah Sheldon m: December 24, 1690
................... 3 Sarah Chapin b: March 16, 1667/68
....................... +Nathaniel Munn m: March 24, 1689/90
................... 3 Thomas Chapin b: May 10, 1671 in Chicopee, MA d: August 27, 1755 in Springfield, Hampden, MA
....................... +Sarah Wright b: May 08, 1673 in Springfield, Hampden, MA m: February 15, 1693/94 d: July 26, 1770
................... 3 John Chapin b: May 14, 1674 in Chicopee, MA d: June 01, 1759 in Springfield, Hampden, MA
....................... +Sarah Bridgman b: 1682 m: January 29, 1700/01 d: May 21, 1756 in Northampton, MA
............................. 4 Sarah Chapin b: November 23, 1702
............................. 4 Jemima Chapin b: January 05, 1704/05
................................. +Abel Bliss m: January 06, 1735/36
............................. 4 Miriam Chapin b: March 05, 1712/13
............................. 4 [1] Phineas Chapin b: September 23, 1715 in Chicopee, MA d: October 11, 1788
................................. +[2] Bethia Chapin b: June 25, 1718 in Springfield, MA m: February 01, 1738/39 in Springfield, Hampden, MA d: May 01, 1793 in Springfield, MA
........................................ 5 [3] Bethia Chapin b: August 08, 1741 d: September 23, 1741 in Springfield, Hampden, MA
........................................ 5 [4] Pharez Chapin b: July 25, 1742 d: August 27, 1755 in Springfield, Hampden, MA
........................................ 5 [5] Bethia Chapin b: August 24, 1743 d: 1780 in Springfield, Hampden, MA
............................................ +[6] Moses Chapin b: February 25, 1738/39 in Springfield, Hampden, MA m: December 17, 1761 in Chicopee, MA d: May 19, 1771
........................................ 5 [7] Phineas Chapin b: March 01, 1746/47 in Chicopee, MA d: March 02, 1821 in Chicopee, MA
............................................ +[8] Sabrina Wright b: December 09, 1755 m: January 26, 1775 d: April 04, 1813
.................................................. 6 [9] Sophronia Chapin b: Abt. 1776 d: September 10, 1804
...................................................... +[10] Stephen Bemis b: September 10, 1774 in Westminster, MA m: February 13, 1802 in Chicopee, MA d: November 11, 1828 in Harvard, MA
............................................................. 7 [11] Stephen Chapin Bemis b: November 28, 1802 in Harvard, MA d: February 12, 1875 in Springfield, MA
................................................................. +[12] Julia Emeline Skeele b: July 11, 1809 in Chicopee, MA m: December 02, 1828 in Chicopee, MA
............................................................. 7 [13] Sophronia Bemis b: July 23, 1804 in Harvard, MA d: March 27, 1842 in Willimansett, MA
................................................................. +[14] John Pendleton d: July 27, 1863
........................................ 5 [15] John Chapin b: May 01, 1753 in Springfield, Hampden, MA
............................................ +[16] Margaret Ely b: January 12, 1751/52 in West Springfield, MA m: August 05, 1775 in West Springfield, MA d: June 02, 1843
........................................ 5 [17] Silas Chapin b: September 10, 1755 in Springfield, Hampden, MA
........................................ 5 [18] Asenath Chapin b: May 02, 1759
............................................ +[19] Silas Smith
............................. 4 Stephen Chapin b: May 29, 1718 in Chicopee, MA d: in Granby, MA
................................. +Zebia Ely b: September 22, 1726 in West Springfield, MA m: September 26, 1745 d: September 26, 1808 in Granby, MA
............................. 4 Asahel Chapin b: December 20, 1721
............................. 4 Eleazer Chapin b: January 27, 1724/25
................... 3 Ebenezer Chapin b: June 26, 1677 in Springfield, Hampden, MA d: December 13, 1772 in Enfield, CT
....................... +Ruth Janes m: December 1702 d: January 18, 1735/36
................... 3 Hannah Chapin b: June 21, 1679 d: July 07, 1679
................... 3 Hannah Chapin b: July 18, 1680
....................... +John Sheldon
................... 3 David Chapin b: November 16, 1682 d: July 08, 1772
....................... +Sarah Stebbins m: November 21, 1705 d: February 06, 1725/26
................... 3 Jonathan Chapin b: February 20, 1684/85 d: March 1685/86
................... 3 Jonathan Chapin b: September 23, 1688 d: February 23, 1761
........ *2nd Wife of Japhet Chapin:
............ +Dorothy Root m: May 31, 1711
........ 2 Hannah Chapin b: December 02, 1644 in Springfield, Hampden, MA
............ +John Hitchcock b: September 27, 1642 in New Haven, CT m: September 27, 1666 in Springfield, Hampden, MA d: February 09, 1711/12 in Springfield, Hampden, MA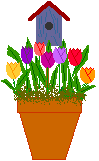 Bemis Landing Home Page